Our mission
As the Union of women in nuclear we contribute to the development of nuclear technology consistent with the sustainable development objectives through wide-ranging professional women involvement.
Lets provide women who work in nuclear area with a motivating environment for self-realization as well as an opportunity to achieve their art and professional potential by the global partnership, education, project support and inspiration for creativity and advancement!
About the organization in numbers
140+
projects
700+
Participants from 28 Russian entities
21
action teams
including Republic of Turkey, Egypt and Singapore
with 28 entities of Russia

8
overseas
Project "Union of women in nuclear: development vector"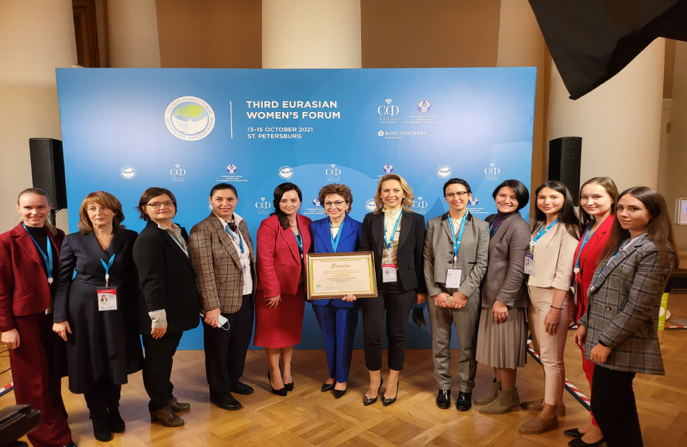 The project «Union of women in nuclear: development vector» is aimed at such as international cooperation development of women professionals in the field of peaceful uses of nuclear energy, promotion of science and technology skills among women and youth in the context of sustainable development goals, the creation of tools to stimulate women professional development in a raw alongside the broad involvement of the younger generation in the STEM area with a view to increasing their representation in the nuclear sector.
"Project range"
International Conference of Women in the Nuclear Industry

The Conference is a traditional annual event of professional women community which unites specialists of State Corporation «Rosatom», industrial international organizations, young scientists and engineers, female-residents of the territories where the nuclear industry is located in Russia, representatives of voluntary organizations, experts in STEM area, etc.

Women in STEM

It is a unique platform for discussing the role of female professionals and their contribution to science and technological progress, motivating female students to pursue careers in science and nuclear energy, as well as the development of mentoring issues for the younger generation in STEM.

STEM HUB

Promotion of engineering and technological professions among children and the younger generation; motivation of children and adolescents to pursue careers in science and engineering and technology.

Women in STEM campaign #iminstem

The campaign aims to inform a wide audience about women who are currently employed in various branches of the economy in technical fields.

It also demonstrates the potential of women professionals for technology companies and the development of economy industries.

Women in the nuclear industry

This sectoral project is one of the largest and most beautiful of the Union of women in nuclear, in the framework of which we tell about our gorgeous female members who share with us personal stories: the stories of their professional way in the industry, their productive successes and achievements.

Socially significant environmental project "Ecolife"

"Ecolife" alerts the general public to the topic of sustainable consumption for the replication of eco-practices among people and industrial companies through WOMEN COMMUNITIES for sustainable economic development.

Rosatom Book club meetings

Project «Atomic dynasties» within the framework of the 75th anniversary of the Nuclear Industry of Russia

This project is a multimedia album describing traditions and professional achievements in dynasties of the nuclear industry professional workers. The album was created for popularization of succession in families of the «Rosatom» State Corporation employees, support of education and work commitment in the nuclear sphere, transfer of knowledge from generation to generation.

Volunteer projects